Can Cosmetic Dentistry Help TMJ?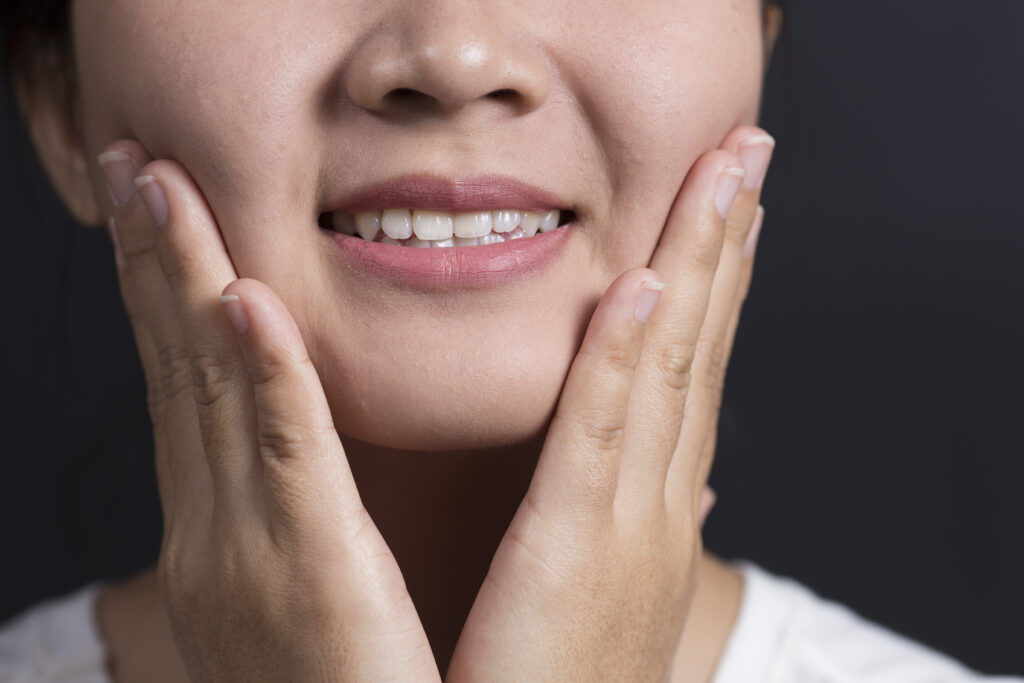 Can Cosmetic Dentistry Help TMJ?
Dr. Ed Lowe of The Lowe Centre is a master of cosmetic dentistry and has been practicing for over 30 years. He believes that cosmetic dentistry not only helps his patients achieve the smile of their dreams but greatly improves their oral health and overall life enjoyment. TMJ, or TMJ dysfunction, is a dental issue that can quickly erode overall life enjoyment. And cosmetic dentistry has effective solutions. 
What Is TMJ?
Also known as TMJ dysfunction, what exactly is TMJ? The Temporomandibular (tem-puh-roe-man-DIB-u-lur) Joint connects your jawbone to your skull. So it is common for this hard-working joint to experience issues. Some patients will feel pain on one or both sides of the TMJ, which can worsen with chewing and movement. 
And if you're feeling extra tense these days, it's not just you! During the height of the COVID-19 pandemic, dentists across Canada were seeing an increase in bruxism or unconscious tooth grinding.  
Many patients who suffer from TMJ are concerned that they may interfere with veneers or a similar cosmetic restoration. Every dental case differs and there are often multiple treatment approaches to choose from. A qualified and experienced cosmetic dentist will be able to craft a treatment plan to address the TMJ and create a beautiful smile.
TMJ vs TMD, What Is the Difference? 
TMJ stands for 'temporomandibular joint' and TMD refers to disorders of this joint. However, the terms are used interchangeably, which can cause some confusion.
The TMJ can cause you pain when the conjoining disks wear down. The bones and nerves of your face connect to other parts of the face and body. A seemingly localized problem like TMJ, therefore, has widespread effects. 
TMD refers to these effects, a variety of disorders involving the jaw muscles, temporomandibular joints, and nerves related to chronic facial pain.
What Are the Symptoms of TMJ?
Headaches are a common symptom of TMJ dysfunction. The Temporomandibular Joint is at the centre of so much activity, from talking to eating. When one or both of these joints is misaligned, many issues can occur, including headaches. 
Other symptoms of TMJ:
Clenching your jaw or grinding your teeth

Jaw clicking or popping

Facial and/or jaw joint pain

Back, neck, and/or cervical pain

Problems with proper posture

"Locked Jaw"

Ear pain and/or hearing loss

Inability to open wide or move from side to side comfortably
Cosmetic Dental Procedures That Can Help TMJ
Given the symptoms of TMJ, it's not surprising that misaligned teeth can sometimes be its cause. And misaligned teeth can be the cause of other issues.
Health Issues Caused by Misaligned Teeth
Over time, the abnormal strain on the teeth and jaw created by crooked teeth can lead to several oral health problems that can contribute to TMJ. Some symptoms overlap:
Loose teeth

Tooth loss

Gum recession

Poor bone support at tooth roots

Jaw pain

Earaches

Headaches

Periodontal disease
Invisalign and TMJ
Invisalign protects teeth by fixing misalignment. Therefore, depending on your particular case, Invisalign could help with TMJ, especially if fixing crooked teeth is a desired part of your smile makeover. Invisalign corrects crooked teeth, allowing them to fit together optimally. When teeth come together in a straight bite, they will last longer, avoiding the wear caused by improper bites. This will also go a long way in preventing the need for costly future dental procedures. 
Learn more about Going Wireless With Invisalign!
Full Mouth Reconstruction For TMJ
More serious cases of TMJ are often a direct result of compacted underlying issues. In some of these cases, a full mouth reconstruction could be appropriate. 
A full mouth reconstruction involves the replacement of the upper and lower arches of teeth with natural-looking prosthetics. As the name suggests, there is often more than one type of cosmetic procedure involved in full mouth reconstructions. 
If your dentist determines that a full mouth reconstruction would be the ideal solution to your TMJ issues, the following procedures might be incorporated into your treatment program.
Dental Crowns
Crowns are used in a variety of procedures, both cosmetic and medical. For example, when root canal treatment needs to be performed on a tooth, a crown is fashioned to seal and restore it. When a regular filling won't be able to restore damaged enamel, a cap is an excellent option to fully restore the tooth's integrity and function.
For more detail on dental crowns, check out our article 'What Are Dental Crowns?'
Dental Implants
Implant restoration is a surgical procedure like bone grafting or wisdom teeth extractions. Essentially, tiny titanium steel posts are placed into the jaw. With implants, you can think of the posts as the new tooth roots and the crowns are the new teeth that fit into these roots.
Permanent crowns are fabricated and cemented into these posts once the tissues around the posts have had time to heal. Unlike dentures or bridges, an implant is held in place independently. This distinction makes implants highly desirable. The major highlights of implants are that they're made to last, stabilize surrounding teeth, and are just like natural teeth. 
Learn more about implants:
The Benefits of Dental Implants
Dental Bridges
Finally, bridges can also become part of a full mouth reconstruction. A dental bridge replaces and connects teeth in certain configurations. In some cases, crowns are placed on either side of a missing tooth, with the bridge connecting them. Another type of bridge consists of the replacement tooth attached to the adjacent teeth with wing-like appendages. Bridges can also be supported by using miniature dental implants as anchors.
Cosmetic Dental Solutions for TMJ
When misaligned teeth are the cause of TMJ, Invisalign could be helpful. For other TMJ cases, a full mouth reconstruction may be appropriate. This treatment plan could consist of dental bridges, crowns, and/or implants. 
Dr. Lowe and his team have been transforming smiles for more than 30 years. Cosmetic dentistry is all about choices and creating a plan that is right for you! Dr. Lowe is renowned for his world-class cosmetic work and care. 
Book a 15-minute virtual consultation today to get started: https://www.mysmilemakeover.com/.
Dr. Ed Lowe
The Lowe Centre for Cosmetic and Implant Dentistry