It's Like A Safety Helmet – For Your Teeth
WHAT ARE UNDER ARMOUR MOUTH GUARDS?
Vancouver's Lowe Centre for Cosmetic and Implant Dentistry is proud to be an authorized provider of Under Armour Performance Mouthwear and sport mouth guards.
An Under Armour Mouth Guard can:
Improve an athlete's strength and endurance
Reduce an athlete's reaction time and athletic stress
Improve one's athletic performance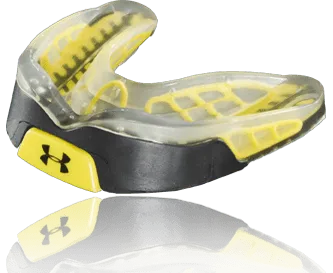 HOW DOES THE UNDER ARMOUR MOUTH GUARD WORK?
Powered by ArmourBite patented mouth wear technology developed by Bite Tech Inc., Under Armour Mouth Guards relieve pressure on the temporomandibular joint (TMJ) and prevent the excessive production of performance-sapping hormones. Under Armour Mouth Guards are used by hundreds of sport professionals, as well as Olympic and collegiate athletes. Custom fittings for sport mouth guards are easy, painless, and fast.
They typically take less than 20-minutes! The Under Armour Mouth Guard for non contact sports is ideal for Baseball, Golf, Tennis, Cycling and Running. The Under Armour Mouth Guard for contact sports is ideal for Football, Hockey, Lacrosse, Martial Arts and Wrestling. Premium Alloy versions of the Under Armour Mouth Guard are also available.