What? No Wires? You Must Be Kidding?
WHAT ARE INVISALIGN RETAINERS?
WHAT ARE INVISALIGN ORTHODONTICS?
Invisalign Orthodontics are the invisible way to straighten teeth using a series of custom-made, nearly invisible aligners that resemble a mouth guard or retainer.
Invisalign orthodontics are a proven and effective way to straighten teeth!
Invisalign orthodontics have been proven effective in both clinical research and in orthodontics practices nationwide.
Invisalign orthodontics are a great dental solution for:
Crowded teeth
Teeth that have drifted too far apart
Teeth that have shifted back since wearing mouth braces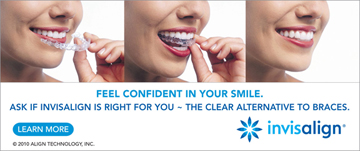 GIVE YOURSELF A NEW REASON TO SMILE
INTERESTED IN COSMETIC DENTISTRY?