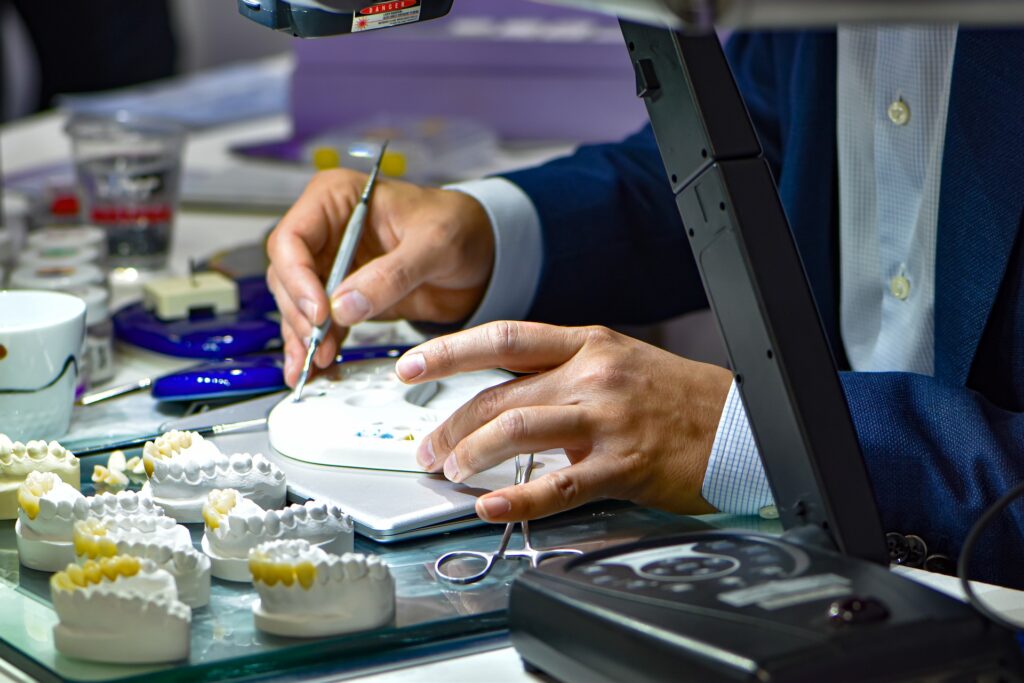 Dental crowns or caps are essentially customized coverage for a tooth. They can play a big role in full mouth reconstructions or can serve as singular restorations. By covering the entirety of the original tooth, dental crowns strengthen and enhance its integrity and appearance, and can be made from a variety of biocompatible materials.
When Are Dental Crowns Used?
Crowns are used in a variety of procedures, both cosmetic and medical. For example, when root canal treatment needs to be performed on a tooth, a crown is fashioned to seal and restore it. When a regular filling won't be able to restore damaged enamel, a cap is an excellent option to fully restore the tooth's integrity and function.
Dental Crown Procedure Length
Getting a dental crown is a minimally invasive and mostly straightforward procedure. It takes one or two visits to prepare the tooth and cement the crown, which is typically produced in a lab. When a dental crown is being used to restore a tooth after a root canal treatment, the procedure can take longer.
The strongest crowns are either metal or a combination of metal and porcelain. That being said, some metal-free crowns incorporate stress-bearing materials to enhance their strength and durability. 
Crown-in-a-day vs Traditional Crowns
There are also crown-in-a-day procedures, during which the crown is designed and milled in-office, so it can be cemented within a few hours. Crown-in-a-day procedures are generally best for patients with difficult schedules and little time. When a crown is created in a lab, there is a wider array of materials available to produce it, including the ultra-strong combination of metal and porcelain. 
The Benefits of Dental Crowns
Dental Crowns Restore a Tooth's Appearance
Crowns are used regularly in procedures when a tooth has suffered decay and damage. This powerful restorative benefit is used in cosmetic dentistry, too. Once the tooth has been modified to accommodate the crown, it fits more perfectly than the original tooth! Discolouration, fractures, cracks, crookedness, and other imperfections in a tooth's appearance can be completely corrected by the crown. 
Treat Dental Symptoms With Crowns
Many dental health issues have uncomfortable symptoms like pain or swelling. Often, the source of these symptoms is a single tooth, and other times they can be all-encompassing, like tooth sensitivity. 
Family or cosmetic dentists will have several options when it comes to treating issues that cause painful symptoms. Depending on the individual's case, a crown, bridge, or veneer may be deemed most appropriate for the particular symptom and its underlying issue. 
Because a dental crown encompasses the entire tooth, it is the most protective restoration available, making them a popular choice in cases where inlays or onlays won't suffice. Once a crown has been set, it is resistant to pain and sensitivity and cannot be differentiated from a natural tooth.
Dental Crowns Naturally Compliment Your Smile
Here at The Lowe Centre for Cosmetic and Implant Dentistry, we consider cosmetic dentistry a fine art and take immense pride in our work. Fashioning and placing crowns play a large role in this artform and not all cosmetic dentists produce the same results. 
Just like a talented ceramic artist creating a new bowl for a complete set, a talented cosmetic dentist pays attention to the same details when creating a dental crown. The shape, colour, and size fit seamlessly with the rest of the teeth such that no one can tell that the crown isn't a natural tooth. Don't accept anything less! 
Take Care of Crowns and They Will Take Care of You
Dental crowns are so strong and durable that they can last anywhere from 15 to 30 years. The materials used produce an entirely tooth-like substitute. Just like a tooth, if you take care of the cap it will reciprocate! Crowns are cared for like regular teeth. With regular brushing and flossing, they can last for several decades. 
If you've been researching crowns and want some more information, why not schedule a 15-minute virtual consultation? We're happy to tell you more and answer your questions!
Dr. Ed Lowe
The Lowe Centre for Cosmetic and Implant Dentistry